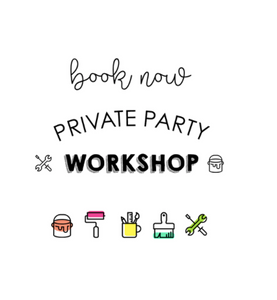 Join us at Studio 223 for a Private Party where each guest gets to create their own unique project!  A Private Party is the perfect way to celebrate a birthday, a Girls' Night Out, a bridal or baby shower, or a team building event.  You can create wood signs or we can work with an outside instructor to do one of our Workshop projects at your Private Party.
The studio can be reserved for Private Parties on available:
Thursdays at 6pm
Fridays at 6pm
Saturdays at 2pm/6pm
Sundays at 2pm 
The $50 REFUNDABLE fee paid at this time will reserve Studio 223 for a two-hour time block on the date you choose.  The $50 fee will be refunded upon the completion of your party. If you cancel the party for any reason, the $50 fee will be forfeited.
Studio Parties are held at Studio 223 in downtown Gilbert, AZ.  We are located at 223 N. Gilbert Rd, Gilbert AZ 85234.  Studio223 has our BYOB license, but alcohol is only allowed after 4pm.  *If you'd like to bring alcoholic drinks to your party, you must book the 6pm time.* 
Private Parties to Paint Signs need a minimum of 6 guests.  Hostess Discounts are available for sign painting parties only.  
If you want to have a Private Party to make a Workshop Project, please email hello@studio223az.com prior to booking so we can consult with our outside instructors regarding the minimum number of guests, the price, and the instructor's availability.
Once you reserve a party date, further instructions will be sent to you via email within 2 days.